AI
Sires
BASIN PAYWEIGHT 1682
BASIN PAYWEIGHT 1682 is a proven calving ease sire with powerful phenotype. He is a moderate framed, deep bodied bull with exceptional rib shape and overall body mass. BASIN PAYWEIGHT 1682 is a true total performance sire. His progeny excel for weaning, yearling, feed efficiency and carcass traits. BASIN PAYWEIGHT 1682 ranks in the top 1% of the breed for $W, $F and $B values. The daughters of BASIN PAYWEIGHT 1682 in production are deep bodied, easy fleshing young cows with nice udders and a real brood cow look. BASIN PAYWEIGHT 1682 adds body mass, fleshing ability, calving ease and is total performance.

QUAKER HILL RAMPAGE 0A36
Breed leader for $B Index with top 1% $W and $F. Powerfully constructed, heavy muscled, masculine DAYBREAK son with incredible growth and performance. +9 CED with high accuracy birth and performance data reflecting nearly 2,000 progeny records in 300 plus herds. Progeny are dominating both the non-parent $B lists and the early fall 2016 sale season. Backed by one of the most impressive cow families in the breed today - his dam is a moderate framed, big bodied cow that adds growth, muscle, and $B to every mating.

EXAR STUD 4658B
The best of Ten X, EXAR STUD 4658B is a deep ribbed, heavy muscled bull with good feet and an attractive profile. EXAR STUD 4658B is the ONLY non-parent bull sired by Ten X at this time that is +12 or more for CED and +203.45 for $Beef! Out of the famous 1559 donor and Ten X, this future herd sire will complement and add value to any cowherd!
Examine his amazing EPD profile and spread, study his genomic stats, and last but not least, evaluate his impressive phenotype, and we think you'll agree "Stud" lives up to his name. Top 1% $B, Top 1% $F, Top 1% $G, Top 1% $W, Top 1% CW, Top 1% Marb, Top 1% YW, Top 2% WW, Top 5% REA, Top 15% Milk, Top 10% CED, Top 20% Doc, Top 20% Fat, Top 30% BW.
Based on phenotype and data, EXAR STUD 4658B is the most complete son of Ten X. Very few bulls can match his top %1 ranking for all four $ values. Use EXAR STUD 4658B as a calving-ease bull with performance and balance in his data.
AAR Ten X 7008 S A
AAA: #15719841
Ten X - The #1 sire in the Angus breed for registrations in 2015 and 2016! He offers proven calving ease with superior performance, carcass merit and $Values. He is a pillar in the Angus breed that has stood the test of time with progeny that have been the high selling lots at sales across the country.
V A R Generation 2100
AAA: #17171587
Pheontypically extremely attractive sire. 2100 is in the top 2% of the Angus breed in six traits--WW, Milk, Marb, $W, $QG and $B. He has the biggest spread BW to WW or YW of Consensus 7229 sons. 2100 adds pounds, length, muscle, soundness and great phenotype to our herd.
Baldridge Bronc
AAA: #18229425
The top-selling bull of the record-setting 2016 Baldridge Brothers Bull Sale. Bronc is an expressive muscled, masculine young sire with a huge top and bold rib shape. He is level in design and has tremendous base width. Bronc exceeds his sire for frame size and he captures your attention from every angle. His dam is one of the most prolific donors in the Baldridge Brothers herd and she stems from the legendary Isabel cow family. This genomic and performance superstar ranks in the top tier of the Angus breed for CED, BW, WW, YW, RE, $W and $B When you combine data with desirable phenotype....Bronc stands alone. An easy-to-use sire that offers mating flexibility like no other
Herd Sires
EF Ten X 5086
AAA: #18121410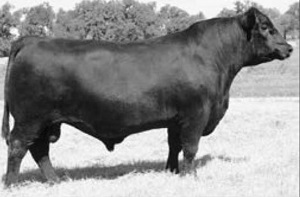 Another great Ten X son out of Generation's sister with elite performance. Ranks in the top 1% for WW, YW, $F, $W & $B. EF Ten X 5086 is a bull that's long spined and good footed with added muscle shape.
Owned with 4 Sons Farm, Cynthiana, KY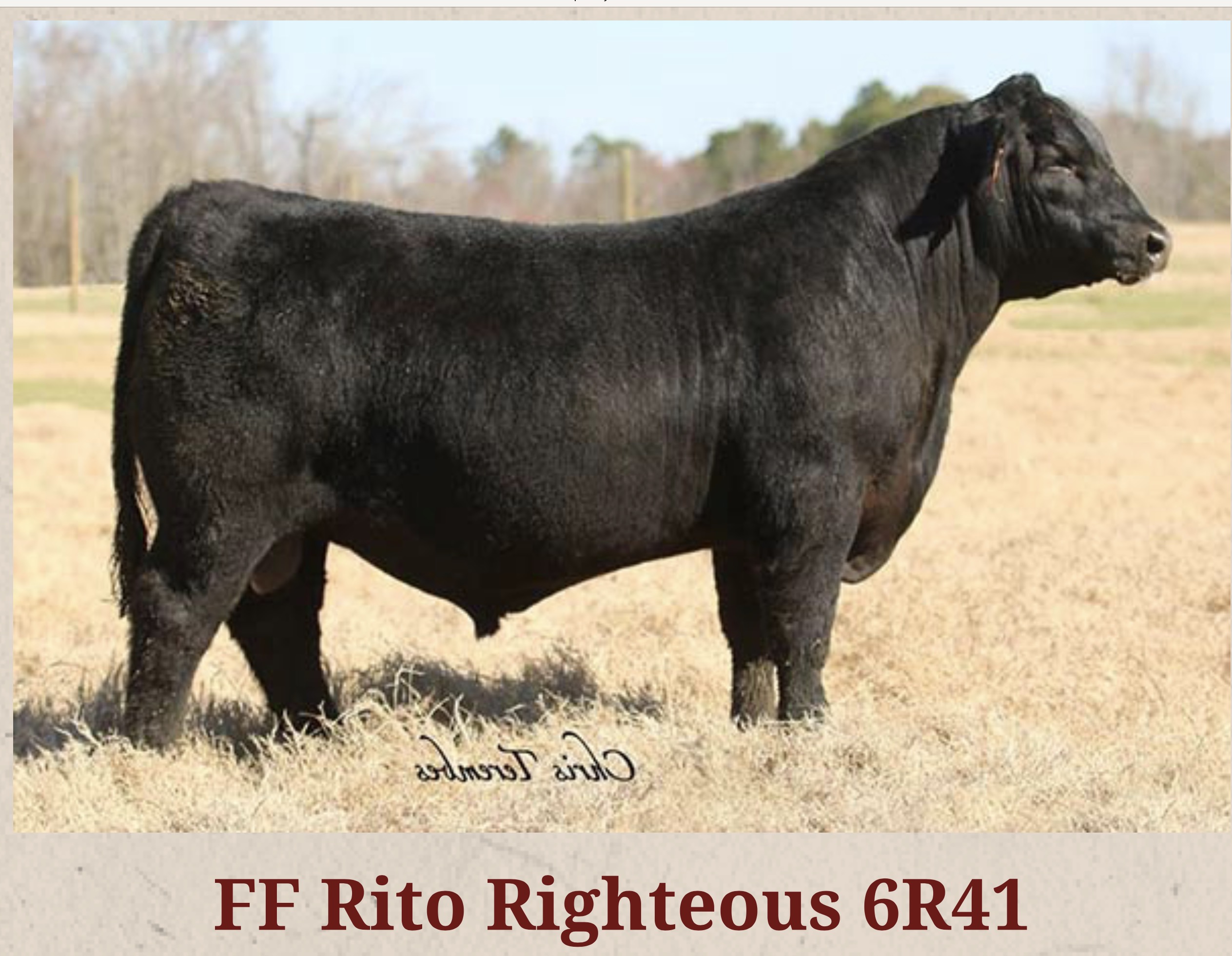 FF Rito Righteous 6R41
Exceptional growth and end product merit in an explosive and attractive package designed for moderate mature size and calving ease – the Rampage son that defies the genetic antagonisms and might just be the one that replaces his famous sire!
Among the more than 475 non-parent sons of elite growth sire Rampage that rank in the top 1% of the population for $Beef value index, Rito Righteous offers the second lowest Yearling Height EPD value, the fourth lowest Mature Height EPD value, the fifth lowest Mature Weight EPD value and the fifth highest Calving Ease Direct score EPD along with one of the ten lowest Birth Weight EPD values WHILE ranking top 1% for Rib Eye area measure EPD, top 2% for $Weaned calf value index, top 2% for $Grid value index, top 2% for hot Carcass Weight EPD, top 3% for Yearling Weight EPD, top 5% for Weaning Weight EPD, top 5% for $Feedlot value index and top 10% for Marbling score EPD.
Breed virgin heifers with complete confidence and expect Righteous to sire sons with extra muscle that grow rapidly and excel for both USDA Quality Grade and USDA Yield Grade with sisters that become moderate sized and productive cows that have the genetic power to transmit added muscle and marbling genetics to their progeny.
Owned with Friendships Farms & 4 Sons Farm